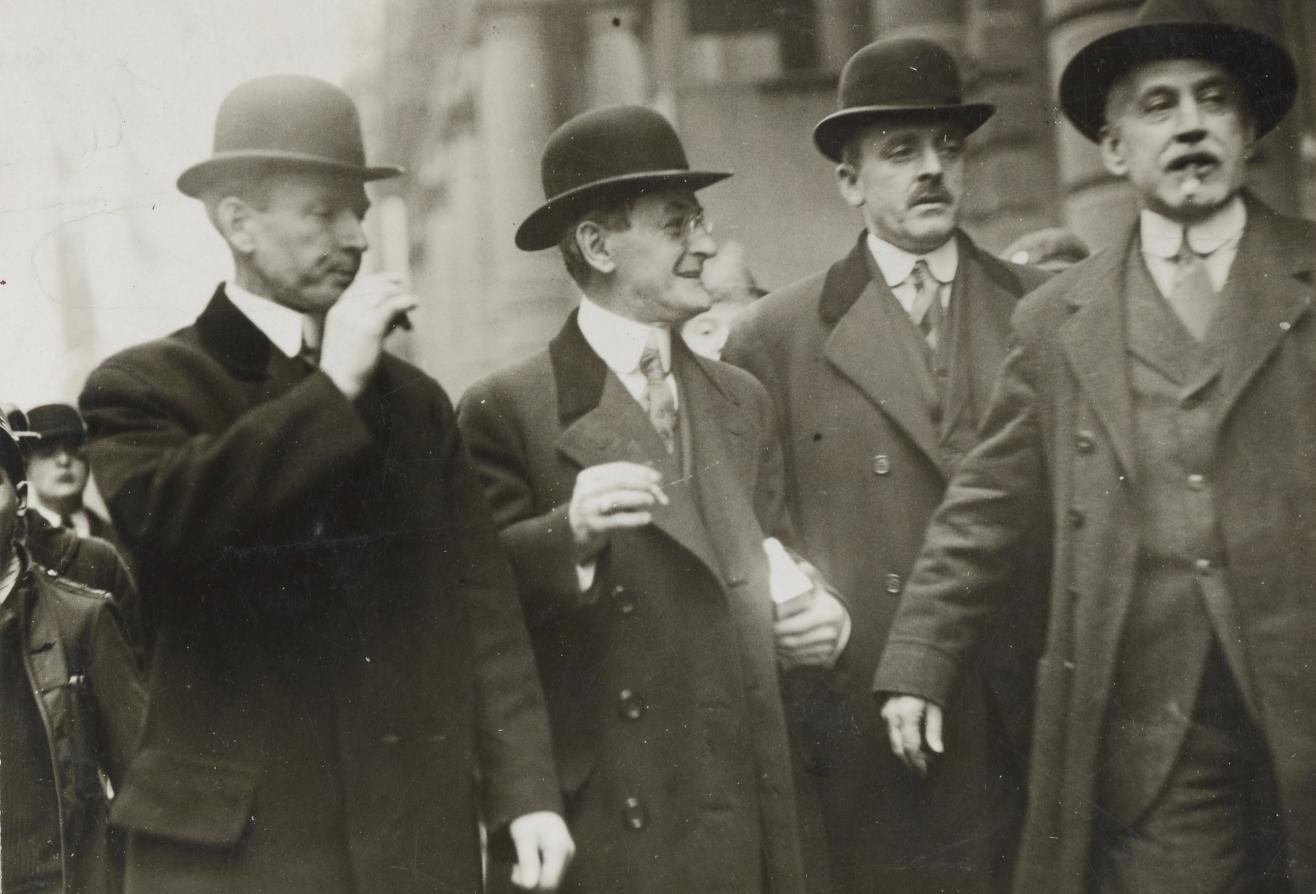 By Ben Schmidt
Dr. Karl Muck was a talented conductor and was the music director of the Boston Symphony Orchestra (BSO) from 1906 to 1908 and again from 1912 to 1918. Muck was born in Darmstadt, Bavaria in 1859, and moved along with his father to Switzerland in 1867, at 8 years old. He would later become a naturalized citizen of that nation, renouncing his German citizenship. Muck received his Ph.D. in Philosophy from the University of Leipzig, in Germany, and had a successful career as a conductor in Switzerland, Austria-Hungary, and Russia before eventually working in Berlin, where he would develop a friendship with the Kaiser while working in the Royal Opera. This was where the founder of the Boston Symphony Orchestra, Henry Lee Higginson, convinced him to move to the United States temporarily to join the BSO. After several years with the BSO, Muck found himself troubled when the United States entered World War I. Dr. Muck offered his resignation to Higginson, but was denied, and later Muck tried to make clear that he held no ill-intent towards the United States. One can only imagine his surprise, therefore, when he was told after the fact that a local radical newspaper had been pushing for Muck to play "The Star-Spangled Banner" before their show in Providence, Rhode Island in October 1917. Dr. Muck and Higginson claimed that Muck had never seen the papers, and Higginson had decided to dismiss the request out of hand, never informing Muck until well after the show, on the train ride back to Boston. That did not stop the newspapers of the region to begin claiming that Muck had purposefully dismissed the request, due to a rabid anti-American agenda that he allegedly held, despite facts to the contrary.
Dr. Muck was arrested the night of March 25, 1918 without a warrant, due to the presidential proclamation allowing for the arrest of "enemy aliens." Despite Muck and the Swiss Legation's protests that Dr. Muck was in fact a Swiss citizen, not a German, the Department of Justice ordered him to be sent for internment on April 5. Dr. Muck was sent to Ft. Oglethorpe, where he became an important facet of camp life. He gathered those internees who had musical talent, including several other members of the Boston Symphony Orchestra and would arrange for the performances of the works of Wagner, Bach, and other German masters, whose performance was outlawed during the war. His performances were even heard by those outside the camp, who traveled to Ft. Oglethorpe to hear them. After the war's end, Muck left the U.S. for Germany in August of 1919, where he was scorned by the post-war government for working under the Kaiser in the Royal Opera, followed soon after by the death of his wife. He briefly continued his career in conducting but was limited by the disapproval of the German public and was forced to take less prestigious positions. In 1933, he resigned from public life entirely, uncomfortable with the direction of the new Nazi-controlled government. He eventually had to move in with a friend for treatment of terminal nicotine poisoning before dying on March 4, 1940 in Stuttgart, Germany, at the age of 80.
Further Reading:
"Symphony Director Ordered Interned: Dr. Karl Muck, of Famous Boston Orchestra, Loses Appeal," Washington Herald, April 6, 1918.
"Karl Muck not Deported: Did not Choose to Go, Department of Justice Official Says," New York Times, Jul 17, 1919.
"Dr. Karl Muck: His Death Recalls Problems of the Artist in Time of War." New York Times, March 10, 1940.
"U.S. Agents Arrest Muck." Boston Daily Globe, March 26, 1918.
Neil Swidey, " Sex, spies, and the national anthem: The BSO scandal you've never heard of," Boston Globe, November 2, 2017.