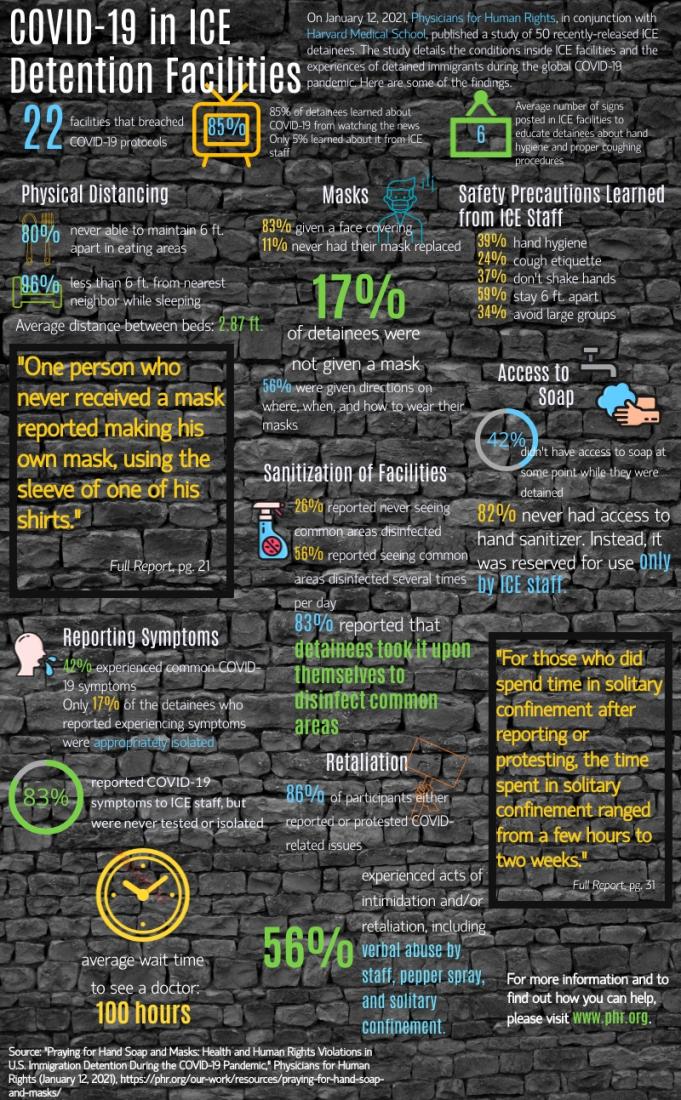 Written By Ashley Burgess, Breighlynn Polk, and Jarrell Stultz
As the year 2020 was ushered in, so was an unpredictable virus that spread rapidly through the borders of foreign and domestic lands. Coronavirus, also known as COVID-19, rapidly infected thousands, globally threatening survival. As cases began to increase on the American home front, many strategies, such as self-quarantining, face masks, and social distancing, were suggested health professionals and government officials to promote safety amid a global pandemic.
With the widespread panic from the COVID-19 pandemic, cries of desperation emanated from communities that lacked resources to protect themselves from the potential threats the pandemic posed. Some of these cries came from the Irwin County Detention Center (ICDC), located in the heart of rural Irwin County, Georgia, approximately one hundred ninety miles south of Atlanta. The financial lifeblood of the economically starved county runs through ICDC, which is privately owned by Louisiana-based LaSalle Corrections, who in turn contracts with U.S. Immigrations and Customs Enforcement (ICE). This once unfilled detention facility has now become the center of complex human rights and immigration conflicts, gaining national media attention.
On September 14, 2020, approximately five months after the first case of COVID-19 was announced in the United States, Dawn Wooten, a licensed practical nurse at ICDC, filed a whistleblower complaint [RA1] with officials at the Department of Homeland Security (DHS) and ICE against the facility. According to Wooten's complaint, multiple women, most of whom are Hispanic immigrants, allegedly underwent hysterectomies and other unnecessary gynecological procedures by the facility's contracted gynecologist without their consent. Referring to the unnamed doctor as the "uterus collector," Wooten, along with nineteen other women, not only unmasked the horrific experiences regarding the women's reproductive rights in the facility, but also revealed the various health disparities there that prevented them from practicing precautionary measures during a fatal health epidemic (Project South 2020).
Subsequently, a class action lawsuit was filed against the facility on December 21, 2020, and, as of April 2021, is set to be heard by the U.S. District Court for the Middle District of Georgia (Brennen Center for Justice, 2020). In conjunction with organizations such as Project South, Georgia Detention Watch, and Georgia Latino Alliance for Human Rights, who work closely with detained immigrants, the lawsuit further reveals the cruel treatment of detained people through recent accounts of jarring medical neglect at ICDC. Accusations include the refusal to test detained people who had been exposed to COVID-19 and the destruction of medical requests submitted by detained people, resulting in the fabrication of medical records (Oldaker v. Giles, 2020).
The allegations in the lawsuit are symptomatic of the historical and systemic perpetuation of atrocious conditions suffered by detained people. Most people who are held in immigration detention centers are not violent or criminal offenders; their only offense is being in the U.S. without the proper documentation. Regardless of legal status, people within these detention centers should be treated in a way that is humane, respectful, and with regard for their health and well-being as a critical component during their detention. Although COVID-19 is a new phenomenon, it has shed a glaring light on the historical and continuing mistreatment of immigrant detention in America.
Further Reading
"87 Doctors Join Organizers and Advocates' Call to Free People from ICE Custody and Close Irwin County Detention Center in Georgia," (Southern Poverty Law Center: February 26, 2021), https://www.splcenter.org/presscenter/87-doctors-join-organizers-and-adv...
Brennan Center for Justice, "Immigration Detention and Covid-19," (March 27, 2020), https://www.brennancenter.org/our-work/research-reports/immigration-dete....
Tim Kennedy, "Inside Irwin County: Letters from a Notorious ICE Detention Center," (Southern Poverty Law Center: October 2, 2020), https://www.splcenter.org/news/2020/10/02/inside-irwin-county-letters-no....
National Immigration Project, Oldaker v. Giles, (United States District Court for the Middle District of Georgia: December 21, 2020), https://www.nipnlg.org/PDFs/practitioners/our_lit/impact_litigation/2020....
Project South, et. al. "Lack of Medical Care, Unsafe Work Practices, and Absence of Adequate Protection Against COVID-19 for Detained Immigrants and Employees Alike at the Irwin County Detention Center," (September 14, 2020), https://projectsouth.org/wp-content/uploads/2020/09/OIG-ICDC-Complaint-1...
Hannah Rappleye and Lisa Riordan Seville, "How One Georgia Town Gambled Its Future on Immigration Detention," The Nation, (April 10, 2012), https://www.thenation.com/article/archive/how-one-georgia- town-gambled....