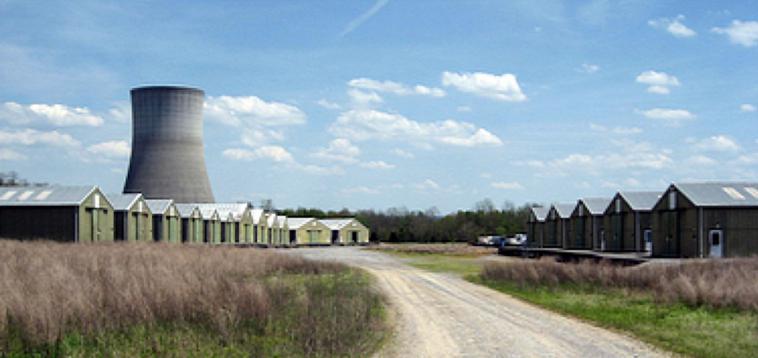 After the Hartsville Nuclear Complex was canceled, the 1,500 acres owned by TVA remained empty for almost 20 years, until over 500 acres were sold for the creation of a "quality industrial park" intended to remedy the region's sluggish economic growth.1 The land was purchased by the Four Lake Regional Industrial Development Authority for $1.7 million in June 2002 to begin the construction of PowerCom Industrial Park, on the condition that they complete $1.5 million in infrastructure improvements by 2007.
The Four Lake Authority (now known as the Tennessee Central Economic Alliance) was optimistic about PowerCom's potential impact on the local economy, raving about its new development opportunity in Trousdale's "innovative" landscape. PowerCom promised to work with the local Tennessee College of Applied Technology to populate the workforce with Trousdale's "potent labor pool," equipped with "skills honed by the twenty-first century training programs" of the college.2
Despite monetary investments in infrastructure and incessant optimism about the project, Trousdale residents did not experience its proposed effects. The median household income in the county trailed several thousand dollars below the national average3, and with on-site spending surpassing $200,000 annually, county-wide retail sales per capita remained less than half the national average.4
1 Tennessee Valley Authority, "Environmental Assessment and Finding of No Significant Impact: Hartsville Nuclear Plant Site, Trousdale and Smith Counties, Tennessee, Transfer of TVA Property for Industrial Park," March 2002, accessed Oct. 1, 2015, https://jobs.tva.com/environment/reports/hartsville/hartsville_ea.pdf.
2 Tennessee Central Economic Alliance. Trousdale County Regional Profile, accessed October 1, 2015, http://tennesseecentral.org/regional_data/regional_profile/trousdale_county.
3 City-data.com. Trousdale County, TN. Accessed 10 2015. http://www.city-data.com.
4 US Census Bureau. 2014. "Trousdale County, TN QuickFacts." Census.