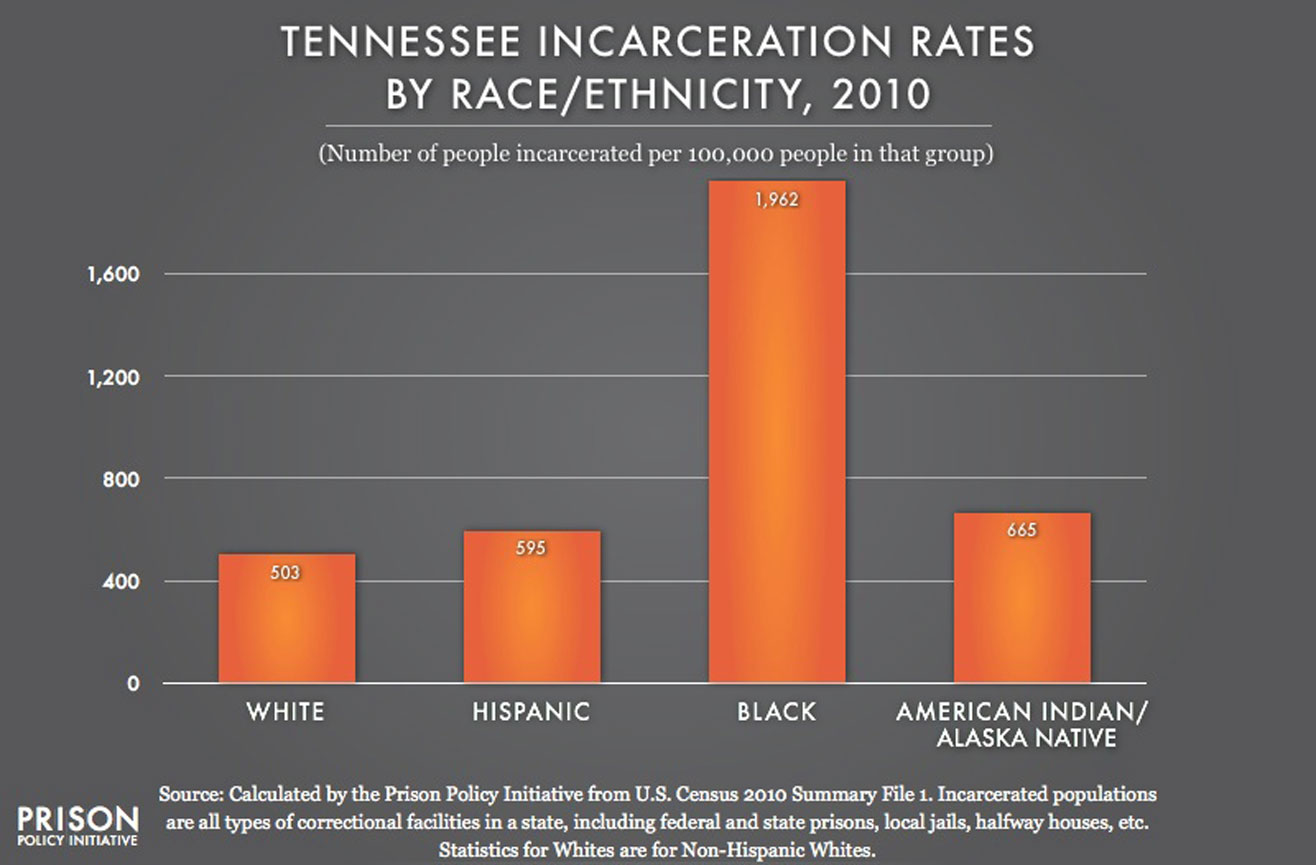 Today, 150 years after the partial abolition of slavery, racial inequality continues to structure Tennessee's criminal legal system. African Americans make up 17% of the state's population but 44% of its prison population.1 At a time when many states are attempting to reduce their prison populations, Tennessee's prison population is still growing.
The number of state prisoners hit an all-time high in 2013 and continued to grow by almost 1% in 2014.2
In addition to high incarceration rates, Tennessee has higher than average rates of school suspension, especially for students of color. Black students in Tennessee account for 23% of all students but 58% of school suspensions and 71% of expulsions.3 Some of the starkest disparities are in Memphis, a predominantly black city with double the national average rate of school suspensions. More than 50% of Black males with disabilities were suspended from Memphis high schools at least once in 2011-12.4 Once a student is suspended or expelled, they are more likely to be caught in a pipeline to prison.
In Trousdale County, less than 10% of the county is black: a recipe for racial tensions between a predominantly white rural population and a disproportionately black urban prison population.5
1 "Tennessee Profile," Tennessee Profile. Prison Policy Initiative, accessed Nov. 4, 2015, http://www.prisonpolicy.org/profiles/TN.html.
2 http://www.prisonpolicy.org/blog/2014/09/16/bjs2013/ and http://www.prisonpolicy.org/reports/overtime.html.
3 Edward J. Smith and Shaun R. Harper, Disproportionate Impact of K-12 School Suspension and Expulsion on Black Students in Southern States (Philadelphia: University of Pennsylvania, Center for the Study of Race and Equity in Education, 2015), 44.
4 Daniel Losen, Cheri Hodson, Michael A. Keith II, Katrina Morrison, Shakti Belway, Are We Closing the School Discipline Gap?, The Civil Rights Project (Feb. 23, 2015), accessed Dec. 12, 2015.
5 "QuickFacts: Trousdale County, TN," United States Census Bureau, accessed Nov. 21, 2015, http://www.census.gov/quickfacts/table/PST045214/47169,00.