Her Story in the Carceral State: Reproductive Justice and Mass Incarceration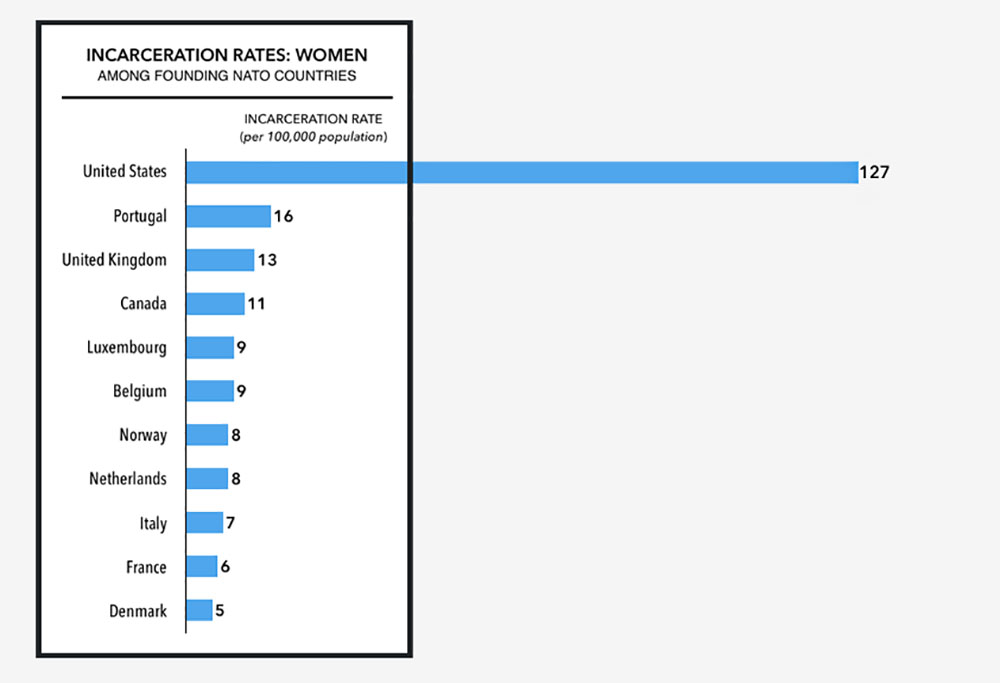 UMass's contribution in the HAL project explores mass incarceration in a historical context, and particularly how it relates to gender and Reproductive Justice. Massachusetts has the dubious historical distinction of having one of the first women's prisons, the Massachusetts Reformatory for Women, as it was called when built in 1877.
The digital team decided to look through the lens of contemporary activism focused on gender and Reproductive Justice within the carceral state. Our goal with this project was to curate images and video that would help amplify the voices of people with lived experience in prison policy activism. By utilizing our platform as graduate students and HAL collaborators, we hope to shed light on some of the gendered issues at stake within the carceral state.
To this end, we examine several themes: Reproductive Justice, prison abolition, and prison reform. There are a number of activist groups in the Northeast, including the Statewide Harm Reduction Coalition (SHaRC), the Prison Birth Project, Real Cost of Prisons Project, Voices from Inside, Women on the Rise Telling their Story (WORTH), and the Just Schools Project. They work to educate, advocate, protest, and draft legislation.
One of the major struggles of a project like this is that we wanted to ensure that people who are directly impacted by incarceration have an active role in the project, so we decided to conduct brief interviews where speakers can tell their own stories. The women we have interviewed are very different, but all have either spent time incarcerated, have served as advocates for people in conflict with the law, or have established community-building initiatives to educate the public and to eliminate the need for policing and incarceration within their communities.
Accordingly, in conducting these interviews, we focused on the roots of our narrators' activism. We thought any discussion of women, incarceration, and Reproductive Justice needed to be based in experiences both personal and more broadly historical. Our interviews included questions asking how each of these individuals became involved in activism work, and how history informs their activism. We hoped to uncover not just a personal history affected by incarceration, but a community-oriented history as well. As public history scholars, we are invested in work that is aimed towards, and actively includes, the public. These interviews offered us the chance to both do justice to the goals of the HAL project, while putting our skills as budding public historians to good use.
As scholars in Western Massachusetts, we were fortunate to be able to utilize the considerable holdings at the nearby Sophia Smith Collection, at Smith College, where we were able to find images and writing archived from many of the organizations listed above. These documents helped to lend context and clarification to the interviews we conducted, and illustrated the many facets of activism and Reproductive Justice in the carceral state.
We would like to extend our gratitude to all of the people who have given their time and expertise, who have both supported and challenged us:
Lois Ahrens, Real Cost of Prisons Project, PreTrial Working Group
Marianne Bullock, Prison Birth Project
Solobia Hutchins, Statewide Harm Reduction Coalition (SHaRC)
Mel Motel, Just Schools Project
Olga Pedraza, Voices From Inside
Tina Reynolds, Women On The Rise Telling HerStory (WORTH)
Holly Richardson, Statewide Harm Reduction Coalition (SHaRC) and OutNow
Loretta Ross, founding mother of "Reproductive Justice" and former co-founder and the National Coordinator of the SisterSong Women of Color Reproductive Justice Collective
L. Mara Dodge, Westfield State University Department of History
Rachel Roth, PreTrial Working Group
Joyce Follet, Smith College, Sophia Smith Collection, Steinem Initiative
Kathleen Nutter, Smith College, Sophia Smith Collection
Christopher Tinson, Hampshire College, School of Critical Social Inquiry
Sam Redman, UMass Amherst Department of History, Oral History Lab
Danny McNulty, UMass Amherst Department of History, Oral History Lab
Natalie Sherif, UMass Amherst Department of History
Marla Miller, UMass Amherst Department of History
Jessica Johnson, UMass Amherst Department of History