Incarceration Present and Past: 2015 and 1829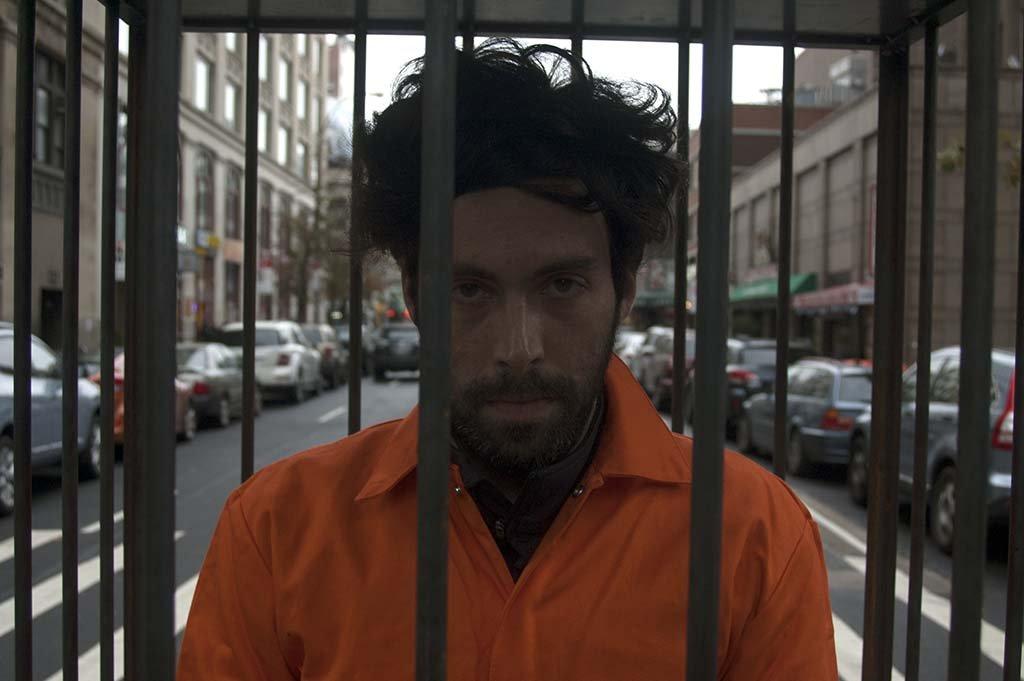 Photo by Lou Weinstein, Gothamist, gothamist.com/2015/10/25/photos_artist_locks_himself_in_cage.php#photo-2
October 25, 2015: Artist Lech Szporer staged art installation The Cage Project in front of "The Tombs," the Manhattan Detention Complex. In an orange jumpsuit and handcuffs, Szporer stood in a locked cage to protest mass incarceration. A prison abolitionist, Szporer expressed support for the bipartisan Sentencing Reform and Corrections Act of 2015 and desire to render the invisible visible in a statement:
"I am staging this disruption because the scandal of mass criminalization, incarceration, and neglect in America is horrific, inhumane, and an issue of grave urgency. Not only do we need to pass the Sentencing Reform and Corrections Act of 2015 – We should abolish prison as the dominant mode of punishment and move toward a non-retributive, reconciliatory, restorative justice to address the issues prisons attempt to address but cannot. By displacing the caged person from behind the walls to the middle of the street, and rendering what is too often invisible visible, I hope to add some emotional depth to the public discussion on prison reform, mental health, and race in America."
In an interview with The Creators Project, Szporer explained his concept:
"Why do we have rights for some but not for others?… We need to ask ourselves: Are we progressive? Are we caring? Are we fixing problems or exacerbating them?"
October 25, 1829: Eastern State Penitentiary opened as the first modern prison. Built on what was then the outskirts of Philadelphia, it was a controversial moment in history where corrections shifted to prisons. The concept was to change behavior through solitary confinement and labor. Although expensive, the Eastern State Penitentiary philosophical and structural model was copied throughout the country. The radial floor plan allowed guards to see throughout the prison from a single point at the center, a significant structural asset before modern security technology. When the penitentiary opened, sentences were short in today's standards, but continued to lengthen with the pro-prison political climate of the later half of the 21st century. Eastern State Penitentiary quickly abandoned its initial standard of solitary confinement and eventually outgrew the outdated prison.
After 142 years, Eastern State Penitentiary shut its doors in 1971. Now a museum, Eastern State Penitentiary provides a window into the history of the beginnings of modern mass incarceration, including documentation of the prison's first inmate, a black man:
"…Charles Williams, Prisoner Number One. Burglar. Light Black Skin. Five feet seven inches tall. Foot: eleven inches. Scar on nose. Scar on Thigh. Broad Mouth. Black eyes. Farmer by trade. Can read. Theft included one twenty-dollar watch, one three-dollar gold seal, one, a gold key. Sentenced to two years confinement with labor. Received by Samuel R. Wood, first Warden, Eastern State Penitentiary…."